Saving Your Marriage Before It Starts
We highly recommend pre-marital coaching based on the SYMBIS Assessment with a Certified SYMBIS facilitator. SYMBIS is the well-known and respected program: Saving Your Marriage Before It Starts.
Did you know that couples who get pre-marital training of some sort are 31% less likely to divorce? You will feel confident in your pre-marital training when you join the 1,000,000 couples have strengthened their future marriage through SYMBIS guidance!
Can We Take The Assessment If We Are Already Married?
While the SYMBIS Assessment is primarily designed for engaged and newlywed couples, many married couples at various stages find the results to be extremely helpful.
Your SYMBIS Assessment includes:
Personality styles (How are you and your fiancé alike- and different?)
Communication skills (How well do you two handle good times and bad?)
Financial styles (Who is a spender? Who is a saver? How do you make it work?)
Practical skills (Who does what chores and when?)
Interests (What will be your couple identity?)
Expectations (What do you expect from your spouse- especially for intimacy?)
And MORE!
After you and your fiancé/husband complete your SYMBIS Assessment (approx. 35 min) , the SYMBIS people will compile a beautiful, in-depth report. You two along with your SYMBIS coach will work through your results, empowering you and your fiancé to:
Enhance your individual strengths and become a synergistic couple
Be aware of your weaknesses and develop healthy plans to overcome them
WHAT IF THIS IS NOT THE FIRST MARRIAGE FOR ONE OR BOTH OF US?
The SYMBIS Assessment will generate a customized report, adding information specific to your circumstances. In fact, a section of your report will be dedicated to issues such as second marriages and blending a family.
We are trained SYMBIS facilitators. We are excited to serve you as your SYMBIS pre-marital counselors/coaches!
If you would like to participate in a S.Y.M.B.I.S assessment, receive on copies of the completed assessment, and meet to discuss the results of the assessment. We will need each of your names and email addresses to get started.
The cost of the SYMBIS assessment is $35 per couple. The cost of the sessions to discuss the SYMBIS assessment is a minimum love offering.
Click link below to view sample SYMBIS couple report...
Contact us today! I'll send you an invitation to take your SYMBIS Assessment. Then we'll get busy (via Skype, Zoom or in person) saving your marriage before it starts!
---
Prepare and Enrich
PREPARE/ENRICH is best-known as a premarital education tool, but the structure of the assessment also lends itself perfectly to dating and married couples who want to learn more about their strengths and growth areas. We have used P/E with couples at all stages of their relationship, from newly dating to married for over 10 years.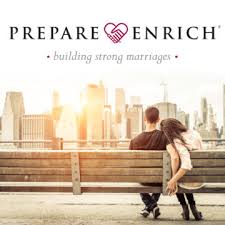 It's an online assessment tool for both married and unmarried couples who want to understand and improve their relationship. Couples often approach the premarital season of their relationship with rose-colored glasses, assuming everything will be fine because they are in love.
P/E helps couples see an unbiased, clearer picture so you can dive deep to work on the important subjects.
By asking key questions in the beginning of the assessment, PREPARE/ENRICH addresses each couple's relationship stage, situation, challenges, philosophical/spiritual orientation, and personalities and tailors the inventory to assess the couple's strengths and the areas of challenge where growth will bring about the greatest benefits. Each partner completes the inventory independently by answering approximately two hundred questions.
Topics covered include: personal stress, communication, conflict resolution, partner style and habits, financial management, leisure activities, sexual expectations, family and friends, relationship roles, spiritual beliefs, marriage expectations, and parenting expectations.
Over three million couples have used PREPARE/ENRICH to help them clarify their challenges and make specific positive changes in their relationships. PREPARE/ENRICH has been developed and refined over a period of thirty years. A great deal of research has helped make PREPARE/ENRICH extremely effective in assessing and portraying the relationship strengths and challenges.
We are PREPARE/ENRICH Facilitators and we use this assessment tool to quickly clarify a couple's needs so that little time is wasted "figuring out what seems to be problem". Of particular value to the couple is a ten-page profile with graphs, charts, and diagrams that help the couple quickly see in full color what they have been trying to figure out and change.
For more information about PREPARE/ENRICH, please visit their website www.prepare-enrich.com.
If you would like to participate in a PREPARE/ENRICH assessment, receive two copies of the ten-page profile, and meet to discuss the results of the assessment. We will need each of your names and email addresses.
The cost of the PREPARE/ENRICH assessment is $35 per couple. The cost of the sessions to discuss the PREPARE/ENRICH assessment is available on our rate and insurance section.
Click link below for a sample P/E report.
Counseling Session Format
Counseling and Coaching is done on the telephone or in-person and each session typically lasts for 60-90 minutes.

Finally, we are highly qualified to meet all your premarital counseling needs:

OUR CERTIFICATIONS:
Certified Marriage and Relationship Educator and Specialist.
Certified Biblical Family Therapist
Certified Christian Restorative Therapist
Certified Professional Marriage/ Relationship Christian Coach
Certified Professional Christian Leadership Coach
Certified S.Y.M.B.I.S and Prepare & Enrich Assessment Facilitator
Certified Christian Marriage Mentor
Certified Marriage on The Rock Leader


Free Coaching Session
Contact Us or call us at 813-260-9740 to schedule a FREE 30min consultation to allow you to experience the benefits that we can offer you!